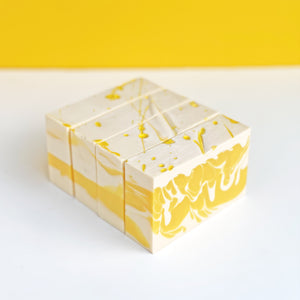 A delicious blend of fresh lemon with light, buttery notes.  It's a bright way to start your day. 
Net Weight: 3.75 oz.
Ingredients: Olive Oil, Coconut Oil, Palm Oil, Water, Sodium Hydroxide, Fragrance, Avocado Oil, Sweet Almond Oil, Castor Oil, Shea Butter, Sodium Lactate, Titanium Dioxide, Yellow 5 Lake, Hydrogenated Polybutene, Mica, Palmitic Acid
Want to make your soap last longer?  We recommend storing it upright or in a slotted soap dish to keep it dry between uses.