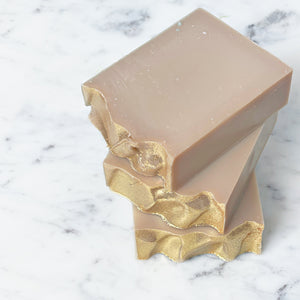 Indulge in notes of cashmere, vanilla and twilight woods topped with sparkle.  You're ready to shine.
Net Weight: 3.75 oz.
Ingredients: Olive Oil, Coconut Oil, Palm Oil, Water, Sodium Hydroxide, Fragrance, Sweet Almond Oil, Avocado Oil, Shea Butter, Castor Oil, Sodium Lactate, Fluorphlogopite, Iron Oxide, Tin Oxide
Want to make your soap last longer?  We recommend storing it upright or in a slotted soap dish to keep it dry between uses.